Because we had such a great experience with your program we decided to host another girl with a different organization in the month of August. Our second young lady was from Durango. We came out of the summer with definitely two different programs and two different experiences. We by far enjoyed your program to the other and would love to share the great experience we had with Laura and the great program that you & Paula do each year.
The other program was the same length of time but much larger so I was shocked. They had three field trips and two pool parties. The student already knew about them and they were paid for, so they weren't really optional. They were seeing friends from Spain every week, sometimes twice a week. They were also allowed to bring cell phones, so texting and calling each other was a huge problem. The students would also make plans to get together to hang out, if their host family allowed. Some of these things were curbed to a minimum by the third week, but because it wasn't a full immersion I felt like we and she really missed the full opportunity that we had been given through your program. We also didn't have much communication with the leaders. If there ever was an issue or even the first few days, they would call her cell phone and wouldn't speak to me. The lack of communication with the host parents I found dis- heartening.
Your program was a complete immersion program. Once the student got here they were to be a part of our family. You and Paula checked in frequently, especially at the beginning and made sure that we and Laura were comfortable, eased ALL of us and you let us know in those first couple days Laura's feelings and concerns. We were all able to adjust quickly I think because we all knew where the other person was coming from emotionally. While Laura was here we lived together for the whole month and considered her a part of our family...we still do. Being able to spend a whole month bonding is amazing and a rare opportunity.
We would be happy to host again with your program. You and Paula do such a great job.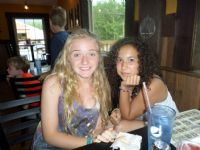 THE RODGERS FAMILY - Voluntown, CT
Our daughter Meriah and our family have hosted Ines from Burgos the last two years and it has been such an inspiring and fun experience. She was always polite and pleasant and taught us a lot about Spain, the different food and meals, the ways of life. It was funny watching her teach our son Spanish as he had a hard time, but she was persistent and he eventually got some of it. We went on vacation together to Ocean City, VA and camping in New Hampshire. We taught her how to rough it as she climbed Mount Washington with us and camped out in the woods on wooden planks with no hot food or a toilet. She loved it. They went to New York City with the group and came back with lots of great pictures and very excited. The organizers were relaxed and helpful. It's been a such a blessing to have had this experience.
THE PAVODANO FAMILY - BOLTON, MA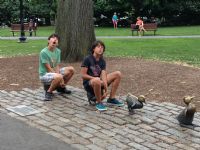 I have to say that as a family we had a very positive, fun month with our student, Diego. Diego was personable and flexible. He was willing to do whatever we had planned, (or not planned) and he always had a good attitude. He was such a good fit for our family. We enjoyed his spontaneity and goofiness (my son is goofy and the two of them got along extremely well).

The two boys loved to go fishing together at the pond down the street. They would spend hours fishing and swimming and just hanging out together. One weeK we drove 8 hours to Maryland to visit my sister and her family. Diego got along great with all of Jamie's cousins ( four new people for him, plus my sister and her husband). They all had so much fun together and my sister was so impressed with him that she wants to host a student now!

My favorite memories are around eating.... The first time we brought Diego to Kimballs Ice Cream Farm, his eyes widened like saucers when he saw how big the ice cream cones were. He was so excited to get a Kimballs Special (or as he called it a Kimballs Especial – we loved his accent!) He and Jamie decided to to split one and spent about 20 minutes picking out flavors and sauces to go on it. They then wolfed it down in about 5 minutes! Another night Diego decided to cook dinner for us – his family's Paella recipe. He got the grill going, and cooked the whole dish which included chicken, various kinds of seafood, and sausage. It was delicious. We ate his paella for dinner, a late night snack and breakfast the next morning!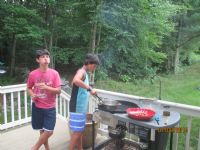 I wasn't sure what to expect from a young teenage boy coming to live with us for a month. I had hoped that he and my son would enjoy each others company and find some common interests. What we got was so much more. Jamie has, I believe, a life long friend in Deigo. The boys enjoy communicating regularly through FB and Whats App. We all hope he will come back again this summer.
I am so thankful for all the work you and Paula did in preparing Diego for his stay with us, matching him with our family,& setting realistic expectations for him and for us.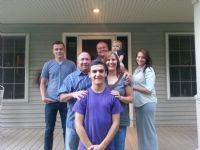 THE SCHNEIDER FAMILY - DANIELSON, CT
The last two years hosting Alejandro from Burgos has been such a blessed and awesome experience. He was so polite, warm and fun loving and we really feel he is part of our family. We took him to amusement parks and history museums, sat around bonfires, and included him in our local church community as well. We taught him how to rundel, which is an early American game from the 1800's. The group New York trip was an eye-opening and BIG trip! Joe and Paula were very detail oriented and organized. We have gained a friend from Spain in Alejandro and hope to stay in touch.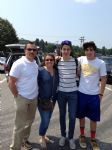 THE PALADINO'S - WEST BOYLSTON, MA
The time Joseba spent with us was exciting, meaningful and full of growth. As he was such a well-mannered and interesting boy, we all had a lot of fun together. He was part of our family and so took part in weekly chores, went shopping, as well as went on a road trip. We also shopped quite a bit too. We taught him about the 4th of July and our Independence Day Celebration while he taught us so much about Spanish culture and the freedom young people have there. Joe and Paula were always available, kind and trustworthy, which helped make this such a good match and experience.
THE FORGET FAMILY - LUNENBURG, MA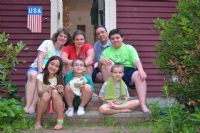 We had an awesome,time this summer hosting Andrea, who was such a sweet and outgoing girl from Zaragoza, Spain. We created memories going to the beach where the kids looked for shells and played in the sea, running in and out of the waves, splashing each other; their smiles were priceless. We also went to museums, the Lego Store, the July 4th parade and helped out at Vacation Bible School and church camp. The group trip to New York was hot, but fun and memorable. Andrea learned how to make s'mores and we learned some Spanish. Joe and Paula were very helpful and wonderful to deal with. It was a fun and enlightening experience.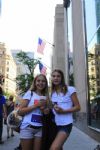 THE SCHUE FAMILY - MORRISVILLE, VT
I thought the experience of hosting someone my age from Spain was great since we both learned about each other's culture and I now have a good friend in Spain who I hope to see one day. Ines had a very good attitude with everyone and everything. She never judged anyone and was a good person. We went to a water park in Burlington, to Hampton Beach with my mom and brother. I took her out with my friends on July 4th and w had a great time, we also played A LOT of games of Skip-Bo. Our greatest memory was New York because there were so many great things that happened in only two days, I met a lot of her friends from Spain who were also doing the program. When were in the hotel it was great because we talked a lot and I got to be friends with many of them. It feels like our family has gained another member.
THE DEBOW FAMILY - BROOKFIELD, NH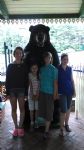 We hosted Mercedes from Bilbao this past summer, 2014, and it was a fun, rewarding experience. She was a quiet girl, but pleasant and enjoyable. We had a great time sharing our summer with her. We took her to Boston (Harvard University), to the trading post to see trained black bears, to cookouts on the lake, and to a baseball game. We even taught her to play some softball (she had fun except for a bump on the head). The New York trip was crazy, fun, and tiring. We taught her expressions like "skeletons in the closet" and she taught us a lot about where she is from in Bilbao. Joe and Paula did an excellent job of matching us up with someone who would fit in with our family.